JRC offers a unique and unparalleled reward system for students and clients, including:
Below are some photos of the various reward areas and activities available to students and clients, as discussed on the main page.
Rewards Areas
Contract Store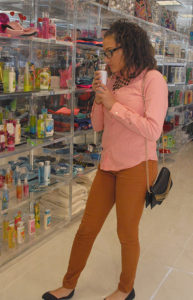 At the Contract Store, students can buy items with money they've earned by working hard on academic and behavioral goals.
This rewards space is so named because the students also must be passing their weekly behavioral contracts in order to earn the privilege of visiting it. They are able to purchase any of the many items available here, such as clothing, jewelry, electronics, and more.
---
Internet Café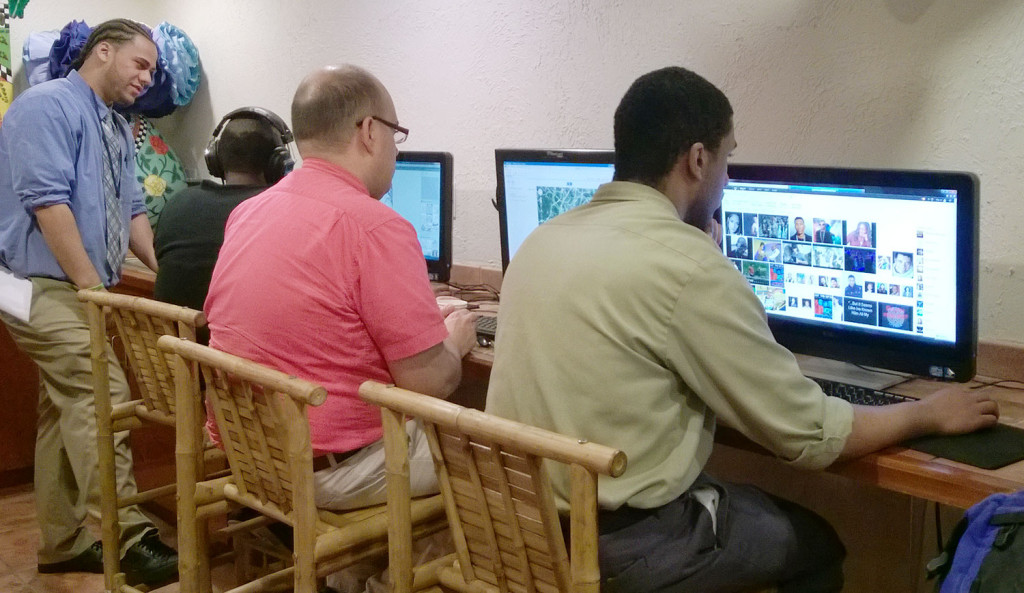 A favorite reward for many of our students is the opportunity to spend time in the Internet Café.
Students can enjoy a cup of coffee while they browse the internet in a lounge with a tropical ambiance and Mexican artifacts.
---
Hair Salon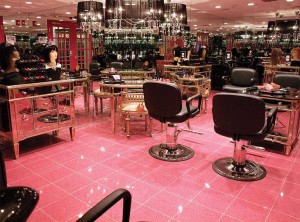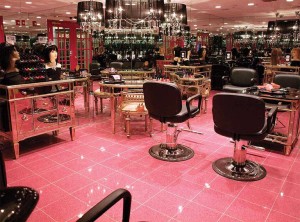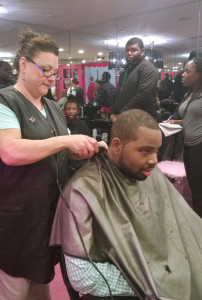 Students can earn an opportunity to make an appointment at the Hair Salon, where they can get a haircut, hair styling, or a manicure.
The hair salon is also used for vocational training for students who wish to pursue that line of work.
---
Movie Theater and Snack Bar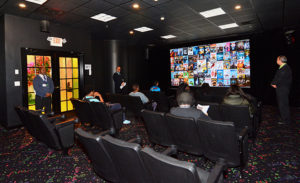 Students watch films, cartoons, and TV shows on the full-wall screen with surround-sound. The theater features comfortable seating, and students enjoy popcorn, flavored waters and juices, and other snacks that they can purchase at the adjoining Snack Bar (at right). The Snack Bar is also accessible directly from the Yellow Brick Road.
---
Big Reward Store and Ball Pit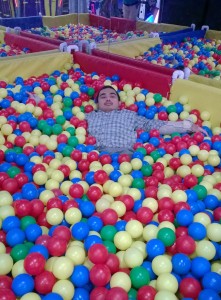 The Big Reward Store contains electronic arcade-style games, a ball pit, a pinball machine, table soccer game, snack machines, and a lounge with a big-screen TV.
This amusement area is especially designed to be a lot of fun for our developmentally disabled students. The Ball Pit is one of the most attractive features of the Big Reward Store.
---
Teen Lounge/Arcade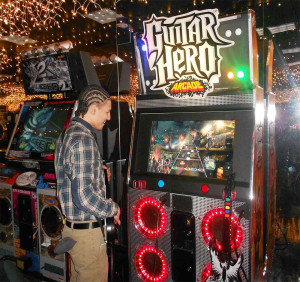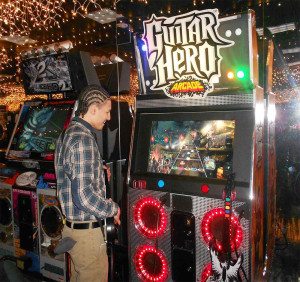 The Teen Lounge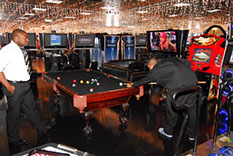 contains a pool table, three x-box game setups, arcade-type basketball hoop games, a dance machine, a big screen TV, an air hockey game, a simulated motorcycle video game, and Guitar Hero (the students' favorite video game).
This lounge was especially designed to appeal to our cognitively typical students.

---
Special Activities in School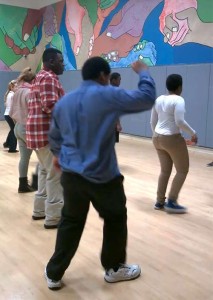 Many activities are available to the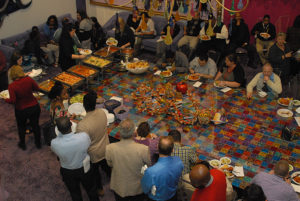 students and clients, both within JRC and as outside field trips.
Once a month, JRC holds a special luncheon for students and clients who have achieved certain milestones in their behaviors to enjoy socializing with each other and with staff. They choose the menu they desire and it's prepared and served by the JRC kitchen staff.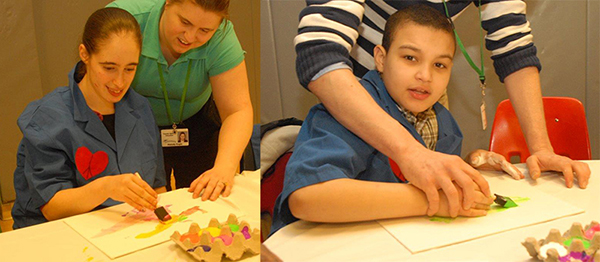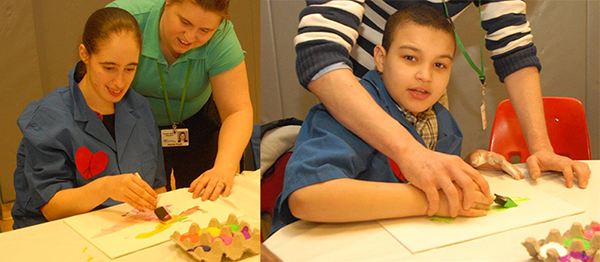 An art-making visit from Peace Love Studios in Pawtucket, Rhode Island, was enjoyed by everyone who participated.
---
Field Trips and Outings
Students are able to make use of the community for recreation.
| | |
| --- | --- |
| Having fun at Dave & Busters. | Students love earning going to Six Flags. |
| Janine enjoys her Dunkin' coffee. | Reaching new heights at the indoor rock wall. |
This is just a small sampling of the many fun outings our students participate in.
---
Other School Rewards
Playground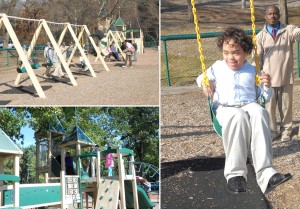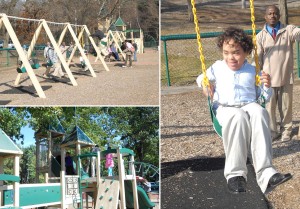 The school grounds include a large playground area with climbing gym and swings, a favorite of many of the students and clients alike.
Basketball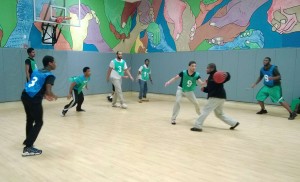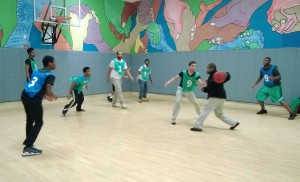 One of the favorite activities of our students is playing basketball against each other, as well as against teams from other schools or a team composed of our staff members.
The basketball court features a mural painted by Kip Frace, a New York artist, who used hand prints and thumb prints of our students to compose the mural.
Classroom Reward Areas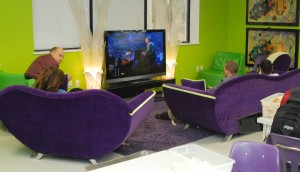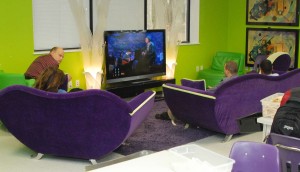 Each classroom for our developmentally delayed students has its own reward area. The Classroom Reward Store is a living room-like area that contains plush chairs, TV, stereo, and various games. By displaying desired academic or other behaviors, students can earn a chance to take a break, watch some TV, relax on the chairs, and so on.
Fitness Room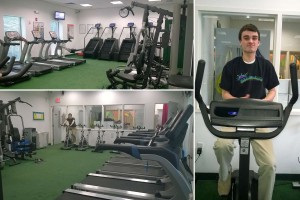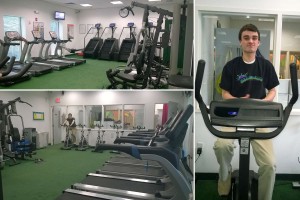 Adjacent to the gym and conveniently located at the end of the Yellow Brick Road, a fully-equipped fitness room with stair-steppers, elliptical machines, treadmills, exercise bikes, and open exercise area allows the students and clients the opportunity to work out every day to improve their cardiovascular and overall health.
---
Parties and More
| | |
| --- | --- |
| Sean enjoys some birthday cake in the picnic area. | Brittany and Shabreea look lovely for the Prom. |
| EV cuts his cake to share with his friends for his birthday. | Matty's mom came to the Special Olympics to cheer him on. |